Under Freddie Roach, and strength and conditioning trainer Alex Ariza, Manny has developed into a once in a generation type athlete. While this obviously has a lot to do with his genetic makeup, the type and intensity of his training has helped him develop into the most explosive fighter on the planet. In a recent interview Ariza spoke about working with Manny and Roach. He said, "Freddie is an out of the box trainer. If it makes sense to him, he'll try it. When I first talked to him, I was surprised about how much he knew about speed training, interval training and the importance of nutrition throughout the day. He knew the basics, just not the intricate details. He knows what most trainers don't care to learn. At first there were some things I thought might not work with Manny. We kept coming up with new stuff. He thought, "If we're going to move up weight divisions, we got to try something new". Without Freddie, this would have never worked."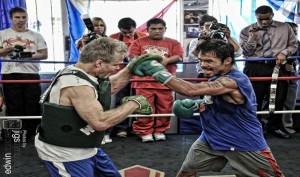 ust to give you an idea of some of the type of training they do, I have included a few videos of Manny training along with some information about his training program leading up to a fight.
When Manny arrives at training camp before a fight, he already has a high level of fitness. He plays a lot of basketball which helps improve his coordination, agility as well as maintaining his stamina. His clean living and active lifestyle keep him in really good shape so when he arrives at training camp before a fight he is ready to go.
His training camps usually last for 8 weeks. This has been the case for his most recent fights against Oscar De La Hoya, Ricky Hatton, Miguel Cotto and Joshua Clottey. Manny will be in camp the same amount of time for his upcoming fight against Margarito according to Freddie Roach. The reason for keeping it this short is to prevent overtraining and burnout. "Training camp has to be short" said Ariza. "It's because Manny trains with unbelievable intensity".
Manny Pacquiao in Training Camp
The core structure of Manny Pacquaio's training regimen does not change much. The exercises and specifics might vary slightly depending on who Manny is preparing to fight, and how he is going physically at that particular time. Alex, as the strength and conditioning trainer has to be completely focused on what Freddie is trying to get out of Manny so he can prepare him physically for the specific needs at that time.
Ariza does not do all the work himself. Yes he is in the gym with the boxers everyday but behind the scenes he has a great team of professionals who help. Teri Tom, his dietician, graduated from UCLA handles the dietician requirements of Ariza's program. Another important person behind the scenes is Aundrea Macias who studied Kinesiology at San Diego State. She does the research. Alex comes up with the exercises, and then runs them by her to see what she thinks. If they think it is going to help that particular boxer then they add the exercises into the strength and conditioning program. "Freddie is involved in every aspect of this from the nutrition, to coming up with the special exercises" said Ariza. "After that we run our ideas by Manny.
In a recent interview before the Cotto fight Ariza said "Its very fortunate that Manny has responded so well to the exercises we do now and the new circuit training and things like that. We've got a good program where we focus on the strength part of it doing all the explosive movements, the plyometrics, ballistic training and in the last few weeks we focus on speed, strength work, balance,agility and things like that."  "In the first 4 weeks of training camp we keep him on a 7000 calories a day diet, and closer to the fight a few things are taken out of the diet but he still has to keep his intake up. He has to have a protein shake before going to bed, he has one at 3am, and another one first thing in the morning. He has up to six meals a day and six protein shakes a day when in training for a fight. We have to keep weight on him, as he trains so hard. We can't have his body dropping calories."
In training camp every morning Manny will be up at 5 am running. Ariza uses inteval training routines. They might also do tabatas of 20 seconds on 10 seconds rest to replicate the type of energy required for a fight.  Ratio of activity to rest is almost always negative. They will either do this kind of training in the hills where they can do hill sprints as well, in a park or sometimes at the beach where they run in the sand. If and when Alex feels they need to do some low impact type work they will do a pool session. At the end of this session they may do a bit of plyometrics, ladder drills and core exercises. Alot of emphasis is placed on the core. As soon as this session is complete he does a thourough warm down and stretch followed by a meal with sufiecient carbohydrate to raise his insulin levels to promote recovery. He then has a protein before going home to rest up for the afternoon session in the gym.
The afternoon session starts with a good warm up (including various dynamic and static stretches) and usually some shadow boxing.
Manny Pacquiao Shadow Boxing -Speed Skills
After that Ariza puts him to work on a variety of plyometric exercises, core work and explosive movements with weights, medicine balls, resitance bands and sometimes even a baseball bat where Manny swings and hits a bag with it. All the exercises designed by Ariza are specific to the moevments required for boxing with the aim of improving his strength, explosiveness and speed.
After doing this then Roach jumps into  the ring with Manny and he punches the mitts for several rounds. They work on movemements, combinations and practice preformulated game plans for who ever they are facing next. When the mitt session is done, Pacquiao goes to the speed bags for several rounds and then the jump rope for about 10 -15 minutes before a good long stretch to finish off the day.